A leading partner in green hydrogen
At HyCC, we are driven by one vision: To enable the full decarbonization of industry and the transition to a truly circular economy. We realize this by providing safe, reliable and affordable supplies of green hydrogen.
HyCC is a joint venture of Macquarie's Green Investment Group and the Dutch chemical company Nobian, which has a long operational experience in electrolysis. What sets us further apart is an unwavering focus on producing green hydrogen from renewable electricity and water.
With a rapidly growing portfolio exceeding 1 gigawatt of projects, we stand at the forefront of transforming industries that are traditionally hard to decarbonize. From steel and aviation fuel, to shipping and chemistry, we are enabling "hard-to-abate" industries to achieve net-zero CO2 emissions.
Building on a long legacy in electrolysis
Green hydrogen is created by splitting water into hydrogen and oxygen using electricity from renewable sources, a process known as electrolysis.
In the chemical industry, electrolysis has been used for decades to produce raw materials from salt water. The largest single-line electrolysis facility, operated by Nobian in Rotterdam, has been safely producing since 1983.
Pure water electrolysis for the production of hydrogen has also been in use for a long time, but mostly at smaller scale. Since the 1980s, the largest installation in Europe has long been a 10-megawatt facility, operated by Nouryon in Rjukan. HyCC emerged from the same company as Nouryon and we still exchange knowledge and experience in the field of electrolysis.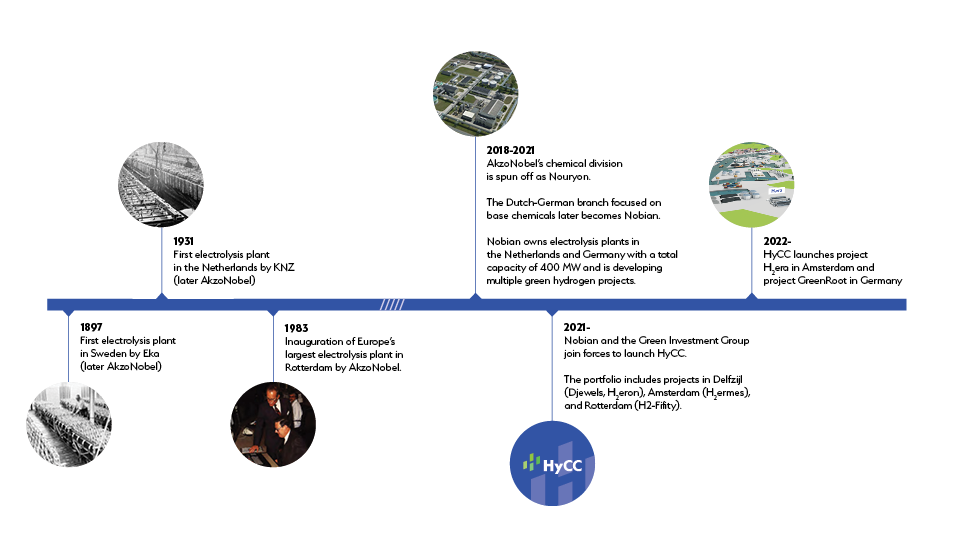 Safe and reliable supplies
Our experience enables us to design and realize projects with safe operations in mind from the start. From renewable power purchasing strategies, to technology assessments and maintenance strategies: HyCC knows what it takes to realize factories that can operate reliably and safely for decades.
About HyCC B.V.
HyCC B.V. is a joint venture of Nobian and Macquarie Asset Management's Green Investment Group, via the Macquarie Green Investment Group Energy Transition Solutions (MGETS) fund, and is registered with the Chamber of Commerce (KvK) under number 81092768.